Camping among the cedars
Our camp ground is home to many beautiful cedar trees, providing have water and 30/50 electrical service. Sites 1 through 21 also have sewer.
If you prefer a pull through site you'll want one of #14 through #19, or #21.
Enjoy shaded camp spots, nestled among our beautiful old cedars on the shore of Spirit Lake.
Our restaurant is a dinner house with an extensive menu and a friendly bar. It serves lunch and breakfast as well, check our opening hours here.
The resort store stocks the basics for any good camping trip; whether you need ice, bug spray, a beer, or more. We can also fill your propane tanks.
Beach Access
Campers have access to the private beach and lawn. The beach is not for general public use.
The Lake House
If you have a large group, book our retro four bedroom "Lake House". It's an authentic 1950's cabin that sleeps up to eleven.
Boat slips
Boat slips are available to campers. Call to add one to your booking. We do have limited on-site parking for boat trailers.
Shower & Toilet Block
We plan to replace the shower block, but that is going to have to wait a year or two. A fresh coat of paint has helped a lot though.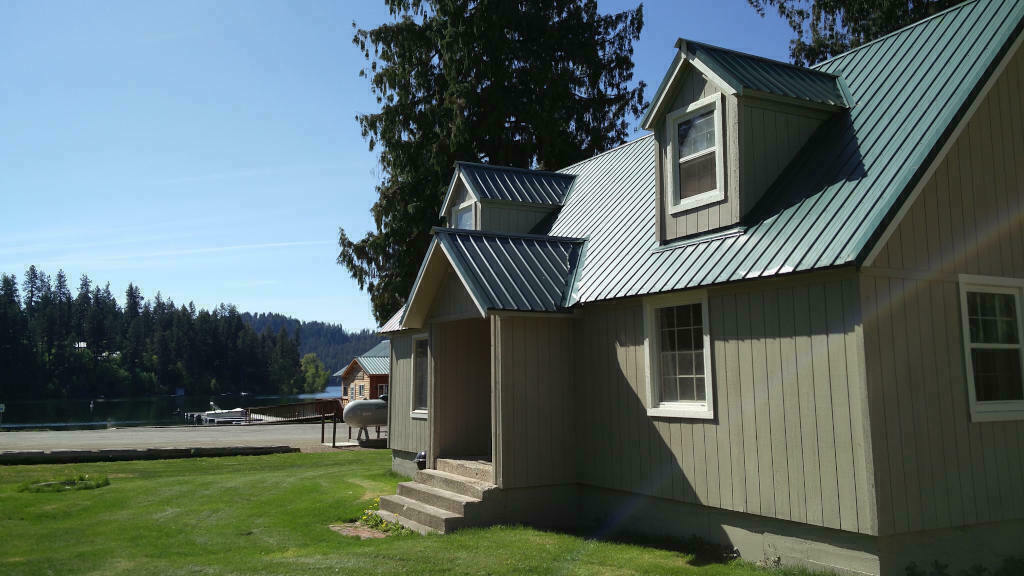 The Lake House
Entering the Lake House is like stepping back in time to the 1960's. It's a beautiful retro, cedar walled cabin that sleeps eleven and overlooks Spirit Lake.
The kitchen is stocked with the essential equipment such as plates, silverware and pots & pans. The bathroom has towels, and the beds have clean linens. You just need to check-in and relax.
Veterans
We offer a 10% discount on your stay to active and retired military. Just show your ID when you checkin.
All guests must check in upon arrival
Check in time is noon for camping and 3pm for the Lake House
Check out time is 11am
Speed limit is 5mph
Quiet time is from 10pm to 7am
All pets must be on a leash
Use the pet area for relieving pets & clean up afterwards
No pets in the restrooms/showers
Guests are responsible for all pets' actions.
Unruly pets will be asked to leave and take their owners with them
All garbage must be kept in covered containers, or put in the dumpster
Do NOT dump grease/fat on the ground. I can't believe we need to include this.
All campfires must be in designated campfire pits, or mobile "fire bowls" that keep the fire off the ground. Ask at the office if you're unsure
No motorcycles, ATV's or other gas powered recreational vehicles are to be used on the property, other than for entering and exiting.
Electric golf carts are permitted for transiting.
No life guard is on duty. Swim at your own risk
No swimming or diving from the docks
Fishing from the docks is only allowed off the right hand, southwest, side
No running on the docks
Boat trailers must be parked in the designated area
No fireworks at any time
No skateboards, skates or scooters
One tent can be used with an RV/motorhome for an additional fee
No smoking in the bathrooms
Stay away from areas of construction
Don't do things you wouldn't want us to do at your home!
This is not a party venue.
Booking a camp spot means up to six people can camp, which includes use of the lawn and beach for them. It does not mean you can have a group of people show up to use our facilities.
Parties may be possible with prior consent outside of our peak season.
A $100 fee may be charged for damage to our property.
Some examples of such damage could be:
fires outside existing firepits
burnt grass from disposable BBQ's, mobile firepits, etc
peeling bark from trees
dumping grease on the ground
Thirty days prior to your arrival date you may cancel your reservation and receive a refund of your deposit less a $15 processing fee.
If you cancel within thirty days of your arrival date you will forfeit your deposit.
Weather
Hunting and Fishing
Local Attractions
Rental Companies
RV & Motorhome Services
---
7712 W Spirit Lake Road
Spirit Lake, ID 83869
+1 (208) 819-4370
Give us a call or send us an email, we endeavour to answer all enquiries within 24 hours.